It's amazing how love and care can transform a helpless dog into a healthy and energetic pooch. Such is the story of a dog named Dobby. When she was found, she was hairless and covered in wounds. But the people who rescued her committed themselves to giving her a new lease on life.
Learn more about Dobby's amazing and inspiring story below:
Rescuing Dobby
According to an organization called Greater Good Charities, a kind individual saw Dobby crawling on a hot asphalt road in Louisiana. The Good Samaritan picked up the canine and phoned the Iberville Parish Animal Control for assistance. The animal control services then rushed to Dobby's location to rescue her. After that, they took Dobby to an animal rescue center called Bayou Buddies.
Bayou Buddies eventually placed Dobby in a foster home. The pup's foster parents gave her a warm bath, a filling meal, and a large comfortable bed. They said that on the dog's first night, Dobby rested peacefully for hours.
It was found out that Dobby had demodectic mange, which resulted in her hair loss. This condition is caused by parasitic mites. After this discovery, the foster family started treating the pooch's skin.
Dobby found her forever home
A philanthropic organization called Greater Good Charities learned of Dobby's condition and decided to help Bayou Buddies by covering the dog's medical expenses. The organization even placed Dobby in its Good Flights program that airlifted her to another shelter that could help her find a home.
Soon enough, Dobby found her forever family. St. Hubert's Animal Welfare Center, the shelter that helped Dobby find her forever home, said that the dog had begun a wonderful chapter in her life. It even shared a picture of Dobby with her new fur dad.
Greater Good Charities hoped that Dobby's story would inspire others to take the time to help poor animals in need.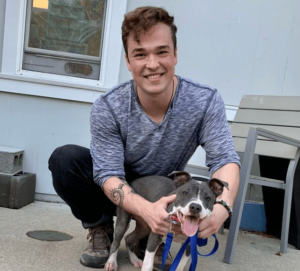 Source: St. Hubert's Animal Welfare Center via Instagram