Friendly dogs have their own ways of greeting people. But a Golden Retriever named Huckleberry takes things to the next level – literally! This is because he greets his neighbors from the roof of their house.
Learn more about Huckleberry's unusual yet adorable mischief below.
Just look up
Huckleberry, or Huck, was named after Huckleberry Finn, a famous literary character created by Mark Twain. Just like his book counterpart, the Golden Retriever engages in a lot of mischief. For one, he loves hanging out on the roof of their house.
According to Allie Lindenmuth, the 10-year-old pooch found his hangout place after he discovered that he could jump from a hill in their backyard onto the roof. Huck loved his new spot, so there was no going back. With that, Lindenmuth's family allowed the dog to watch the neighborhood from the roof as long as he is supervised. Lindenmuth added that they built the senior dog a little ramp, so he won't hurt his hips whenever he climbs the roof.
Lindenmuth said that Huck loves watching their neighbors pass by. He often barks at them to say hello. The dog also has an amazing view of the town from the roof.
When he's not hanging out on the roof, Huck can be seen cuddling with his owners or swimming.
Huck is a social media star
Because of Huck's affinity for hanging out on the roof, he became a local attraction. He even became an Instagram star. His page on the said social media platform has more than 45K followers.
Lindenmuth explained that they started Huck's Instagram account because people used to go to their house, wanting to learn more about the Golden Retriever. There were even times when drivers would make a U-turn just to confirm that they saw a dog on the roof.
If you want to learn more about Huck, you're in luck, as his parents will release a new book about him next year.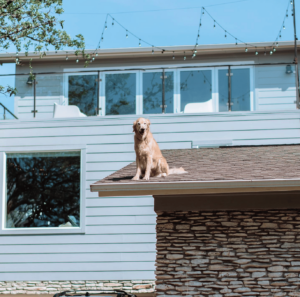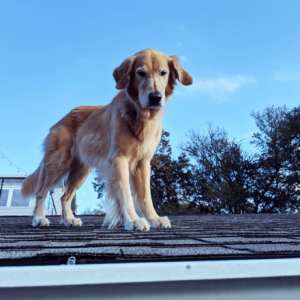 Source: Huck the Roof Dog via Instagram