Dogs always make the perfect hiking companions. They love the outdoors, and they are agile. However, dogs get tired, too. And when they do, they may need the help of their owners.
A dog named Roland was rescued from a physically demanding mountain hike. Thankfully, he was all fine, albeit needing some rest.
The hike that made Roland tired
After getting exhausted during a mountain hike in Manitou Springs, Colorado, Roland needed someone to carry him. The El Paso County Search and Rescue (EPCSAR) volunteers came to his aid after receiving a call about him.
Apparently, Roland and his owner were at Barr Camp. To reach this place, visitors will need to hike a 6.5-mile trail. The trek to the site gains more than 3,000 feet in elevation. Most of the gain is found over the trail's first three miles.
Roland and his family were on a return hike from Barr Camp. But in the middle of the trek, Roland started needing help.
According to a Facebook post by the EPCSAR, Roland and his fur dad were grateful to the volunteers for lending their helping hand and getting them safely down to their car. The said post showed a photo of the rescuers carrying a smiling Roland.
Nevertheless, the EPCSAR made it clear that Roland's dad carried the pooch for several miles before the organization stepped in.
The El Paso community shared its sentiments
The EPCSAR's Facebook post was received well by the El Paso community. It has more than 500 reactions and a bunch of positive comments.
Roland's grandfather, the dog owner's dad, thanked the EPCSAR volunteers for their outstanding job. He said that Roland indeed enjoyed their attention. According to him, the vet said that Roland might have a mild sprain. Nevertheless, the pooch was put on medication and eventually did much better.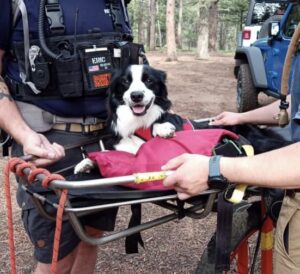 Source: El Paso County Search and Rescue via Facebook